ALBEROBELLO, ITALY
Located in the Province of Apulia in the "heel" of Italy, near the coastal city of Bari, Alberobello houses a collection of some very unusual structures known as "trulli." Beehive dome roofs cover circular walls and create a forest of stone cones. Originating with tumuli, burial places for the dead (see Antequera), these particular forms evolved into residences and shops.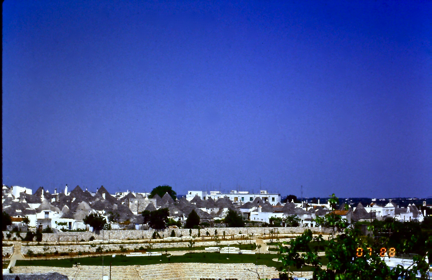 As seen from a slight distance, the little gray domes dot the landscape.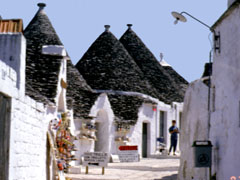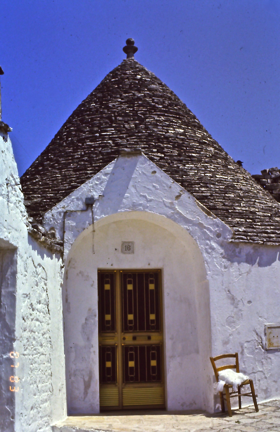 It is best to view the trulli in their native habitat, here in Alberobello. Vertical, circular walls are capped with flat stones piled in concentric rings, forming what is sometimes called "beehive dome" construction. See the Treasury of Atreus below for a monumental example of such construction.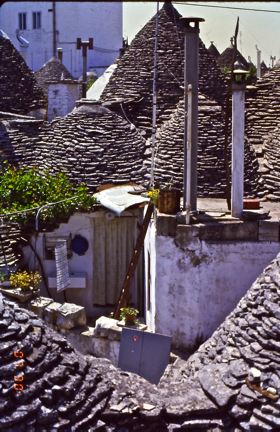 The cone-shaped beehive domes of southeast Italy might go back to 3000 B.C.E. when colonists from Asia Minor settled on the eastern shores of Italy. That tradition might go back even farther in Assyria, where the colonists might have had roots. There are a lot of origin theories. The singular word for trulli is trullo, and the derivation of that word is tholos, the round beehive dome chamber for burial of the Mycenaeans (again, see the Treasury of Atreus in Chapter Two below), and the name applied to the burial chambers at Antequera above. The stones are local.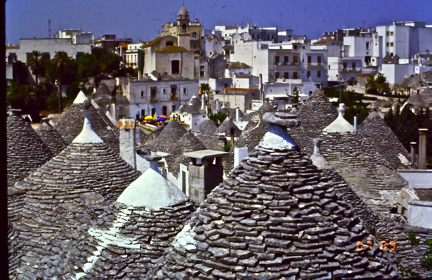 The little peaks, which cap the domes, are cylindrical stones placed in the "keystone" position. Original designs seemed to relate to cult worship, possibly the sun.
Originally the trulli rose directly from the ground in their conical shape, composed of ever-smaller concentric rings of stone, without mortar. Later developments brought the vertical round structure, and in some instances straight walls. Mortar began to be used by the builders.
It seems that there might be two layers of stones. First, the bevel-cut interior layer, which gives the inside of the cone a smooth look; these are known as "cannelle." Then we have the outer layer, which overhangs row by row, keeping rain out; these are known as "chiancole."
Symbols appear on the stonework and seem to have had specific reasons for being designed the way they are. Some have Christian origins (witness the crucifix), others pagan cult symbolism. White lime is used for the markings. The structures as we see them today are definitely not 3000 years old - possibly only about 500, but they do follow a long-standing community tradition. They seemingly are quite indicative of a very early form of construction.
This little cluster is almost fantasy-like. The trulli are truly delightful to the eye.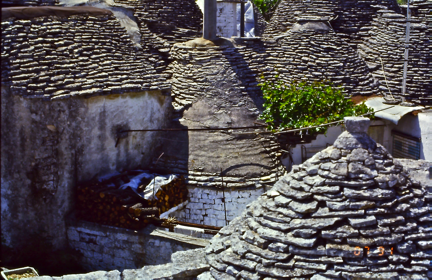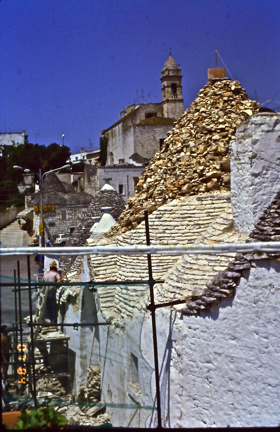 Well, not all of the pinnacles are cylindrical - here we have cubes. There is obvious need for some repair work here. Notice, though, how beautifully some of the stones have been cut.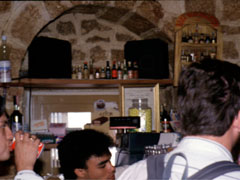 In a country replete with Roman arches, it is not surprising to find such forms inside a trullo. Here is a small, typical Italian bar serving refreshments in the Villaggio Turistico. Trulli serve every imaginable function. Some are joined together, and there is a cluster of twelve, interconnected, which was declared a National Monument. The trulli are not only cute, they are delightful both externally as well as internally. They are like "not real." Local tourist brochures state that there is anywhere from 100 to 1000 trulli. Their uniqueness, not open to such speculation or exaggeration, has led to UNESCO declaring the village center of Alberobello an International Human Resource!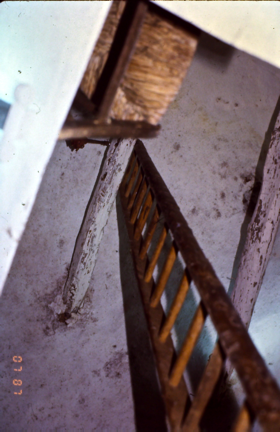 Apparently every trullo, or almost every one, has a wooden loft used for storage. A very similar design of braced tree pieces appears in Mayan construction, and it always seemed they were for loft construction as opposed to acting like tie rods.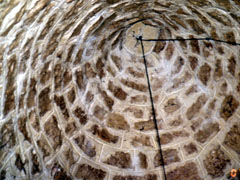 Looking straight up into a trullo, as its construction becomes obvious – there are a series of concentric circles, ever decreasing in diameter as they rise to a pinnacle. Notice, too, that the inside of the stones are bevel-cut to create a smooth conical plane.
And so we bid "arrividerci trulli!"
© Architecture Past Present & Future - Edward D. Levinson, 2009