OIA
This community is located on the northernmost tip of Santorini, situated approximately 200 meters (656') above sea level, and 12 kilometers (7.5 miles) from the central town of Thira. It was also the location for the filming of the movie "Summer Lovers," which, incidentally, gave the island a big tourist boost. Construction seems to have begun on the top of the ridge of the crater, and worked its way down; it is still progressing in this fashion. We can truly call the development organic because the houses (villas) nestle themselves into the cliff faces. One villa's terrace is the roof of the one below. Stairs squeeze in-between walls and manage to reach all of the buildings.
Everything is almost pure white - lime whitewash - interiors as well as the exteriors. Spots of color are the doors and, of course, the blue domes of the churches (mostly Greek Orthodox), which reflect, in their coloring, the blue of the sky.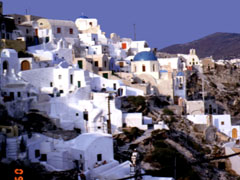 The unpainted cemented structures are either new homes awaiting their whitewashing or, if in a ruinous state, are remnants of the last serious earthquake destruction, which struck in 1956. Homes are cut partially into the cliffs, with a barrel vault roof, which provides the necessary compressive strength to withstand the weight of the cliff above.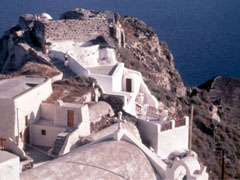 The promontory at Oia has the remains of some sort of defense work - castle or fort, perhaps gun emplacement. Below the high point you can see stairs that go from one level to another.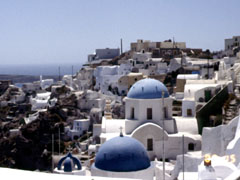 These domes are often featured in commercials; they are quite photogenic. The original forbears of these domes were probably made of corbelled stones in concentric rings (see Alberobello above and the Treasury of Atreus below). Now they are being constructed of formed concrete, cast monolithically.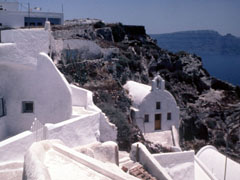 The barrel vault of this small church seems to grow out of the mountain. This church is more in the shape of a basilica type and might belong to the Catholic inhabitants of the island, whereas the central-spaced domed churches are undoubtedly Greek Orthodox.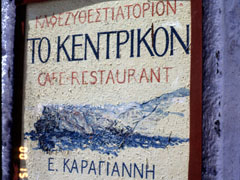 Signage is a work of art in so many places around the world. Here a restaurant advertisement adds to the ambiance, as opposed to detracting from it.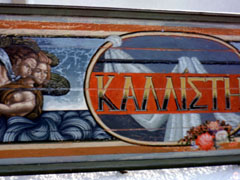 Another commercial work of art: it is what makes strolling these streets such an enjoyable experience. So many objects of beauty pleasantly arouse the senses.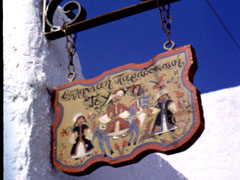 These little touches of color work so well against the white buildings and the amazingly blue sky.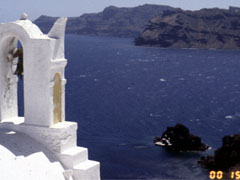 Inside the volcanic crater. A small bell tower is seen on the left.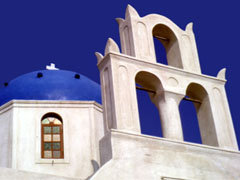 Another bell tower in Oia. This one is waiting for its bells. If you can believe that the sky is bluer than the dome, it is true. The composition is excellent - pierced verticals juxtaposed against the octagonal drum section and the dome it supports.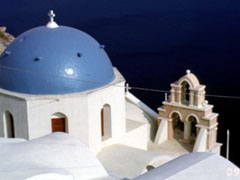 Yet one more bell tower in Oia, framed against the dark water of the crater. Here just a touch of a light tan color sets off the reduplicated arches, their springing, and buttresses.
© Architecture Past Present & Future - Edward D. Levinson, 2009