ALARCON, SPAIN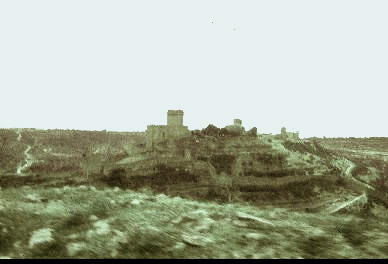 Located east of Madrid, and south of Cuenca, in one of the many bends in the Júcar River, Alarcon juts up out of the landscape. It is on the boundary of La Mancha and Levante. The river forms a natural moat. Its fortress is now a "Parador," which is a wonderful Spanish system of restoring and then converting castles, palaces, monasteries, and convents into hotels for tourists at very reasonable prices. The advertisement for the Parador states it dates from the 8th century. Historical documents mention Alarcon from the 13th through the 15th centuries.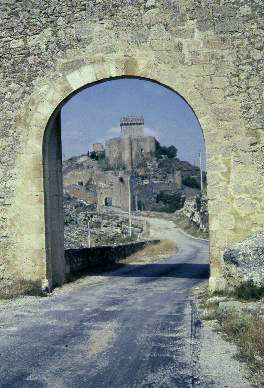 Approaching the castle through an arched opening in defensive walls surrounding not only the castle but also the community.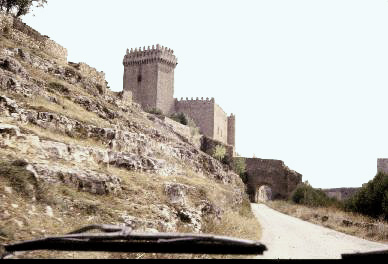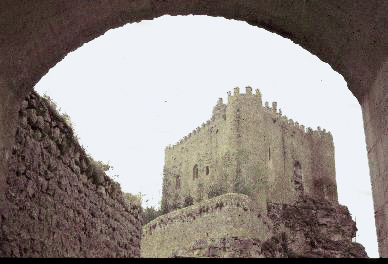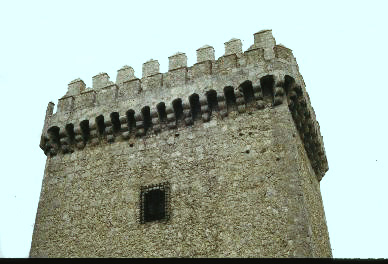 Crenellations atop the main tower, with machicolations projecting beyond.
The isolated site and the need for defense are signs of the turmoil of the Middle Ages. Little is left of the adjacent town, and there were five parishes here, housing 12,000 people. Its name might come from Alaric II (484-507), a Visigoth King of Spain and southern Gaul, who wrested control of the area from the Romans. Some relate the name to an Arabic expression "Al Arkon", which means "lookout," and that certainly does describe the site. There is a legend, perhaps true, that Fernan Martin de Ceballos single-handedly captured the castle for Christian forces by climbing its stone walls with two daggers that he dug into the joints of the stonework. For that feat, his family was given the name Alarcon.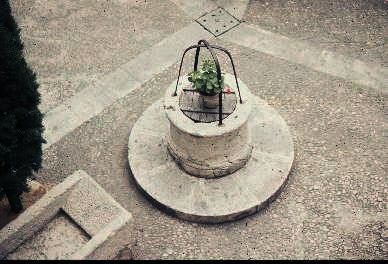 A well in the central patio; water is so vital in any defensive structure.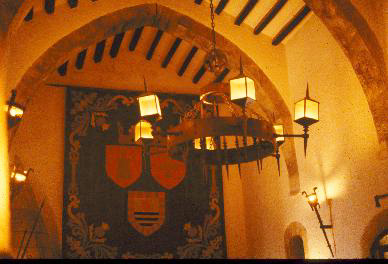 Interior view showing a Gothic-period pointed arch supporting the roof of wood joists. The wrought iron work is typical of the Spanish Medieval period, and is of a robust nature, similar to the Italian.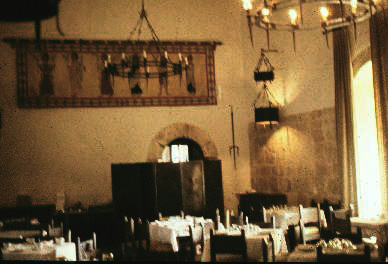 Another interior look. The Paradors restore buildings to the character of their ancient past.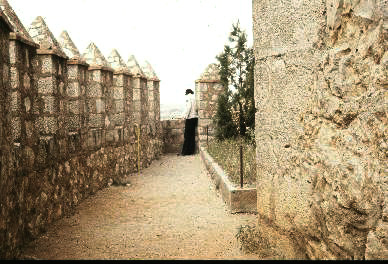 The crenellated ramparts.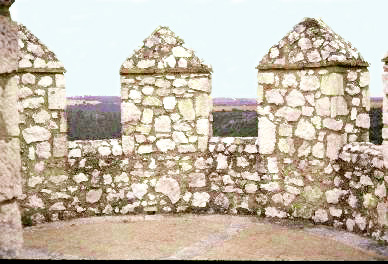 Corners of the ramparts terminate in circular constructions, obviously designed for guards to look out and defend.
© Architecture Past Present & Future - Edward D. Levinson, 2009