THE CAMPANILE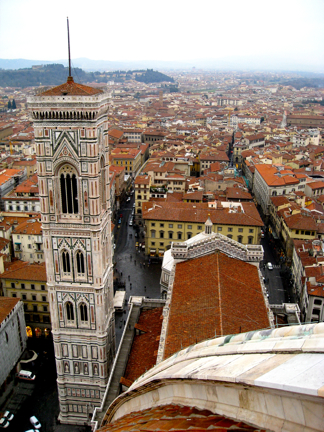 Giotto designed the Campanile, what has come to be Italian for "bell tower," in 1334, with construction lasting until 1387. It is part of the continued history of the city of Florence, in which artists and architects were appreciated and their works extolled. In this case, perhaps more than in other structures, it needs to be understood that campanile means more than bell tower – it derives from the Italian campanilismo, which simply means patriotism. Watch towers had been built throughout the time, particularly the 12th to 14th centuries in Italy, for pure protection purposes, but somewhere, somehow, their purpose became one of ostentatious use of personal wealth, and while San Gimignano still has thirteen towers, it is said the city of Bologna once had two hundred. Here in Florence the towers of private feudal overlords had been suppressive, and were eventually torn down. But the feeling of the power of the tower remained, coupled with a history which began in Italy – that of the freestanding church tower. Look back to Ravenna and the campanile of St. Apollinare in Classe, erected in the 10th century.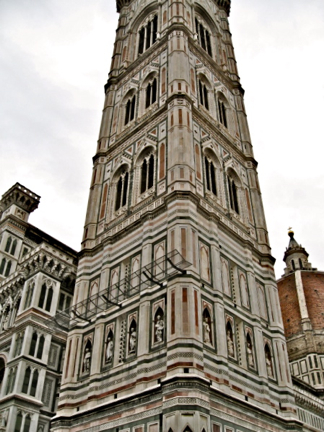 The first architect of the structure was Giotto di Bondone, known locally as "the world's greatest painter." Begun in 1334, only one story was complete at the time of Giotto's death. Andrea Pisano, a sculptor who designed the very first set of doors on the Baptistry, is credited with creating the very sculptural niches on the tower. The architect Francesco Talenti followed Pisano in 1343, and continued the "painting" theme of the campanile. Talenti completed the upper open stories by 1360. Despite a number of designers, there is a completeness about the tower. It follows almost in the traditions of the Parthenon and the Pantheon in its visually manipulated psychological effect: as the floors rise, the "window" openings grow taller, and this reverses the normal vision of objects in perspective.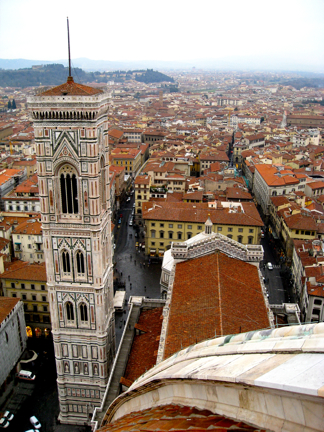 Looking back at our first illustration, we see that instead of seeing smaller windows (assuming they were all the same size) here, the windows get taller as they go up, and we feel a reversal of imagery, making this tower look even taller than it really is: 89 meters (292') high .
One last bit of information: the marbles of this tower are all from Italy, with the white coming from Carrara, the green from Prato, and the red from Siena.
© Architecture Past Present & Future - Edward D. Levinson, 2009