THE GIRALDA TOWER (LA GIRALDA)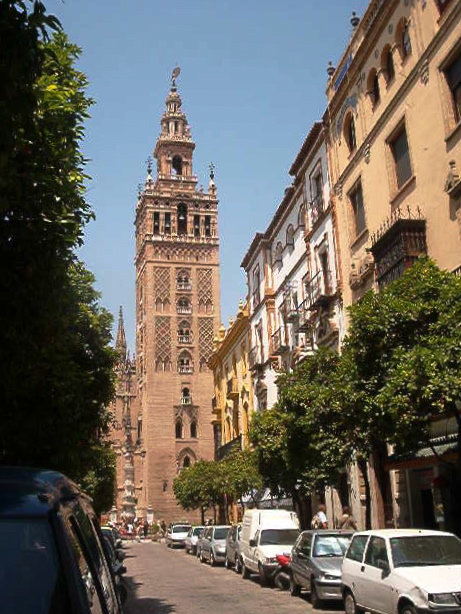 The bell tower adjoining the Cathedral of Seville was originally a minaret for a mosque on the site, and was built between 1184 and 1196. When Seville was reconquered by the Spanish Crown in 1248 the minaret of the mosque in Seville escaped destruction by its own defenders, who did not want it to fall into Christian hands. This was prevented by King Alonso X, who declared: "If they removed a single stone, they would all be put to the sword." In 1568 Hernán Ruiz designed the Christian bell tower atop the minaret. In the 17th century the tower was crowned with a bronze statue to Faith, which stands at 98 meters (320'), and serves as a weather vane (El Giraldillo). That sounds good, but a local travel source headquartered in Seville states that the top of the tower fell in some part in 1,356, and was replaced with the statue which doubles as a wind vane, that obviously turns in the wind. Since the Spanish word for "turn" is "gira" they indicate that as the origin of the name "Giralda".
The minaret has surfaces almost entirely covered with yellow brick and stone paneling of Moorish design. It has, unfortunately, been copied in a lot of places, and becomes a local trademark, with general populations not realizing that a copy is only a copy. Again, to cite Zaha Hadid and her comments about Americans seeking culture while thinking we have none. In other words a "quick fix" can be obtained by copying cultural landmarks from Europe, where practically everyone feels culture lives; perhaps that is just a way of avoiding having to design something original. Keep this in mind the next time the King of Spain comes to town, as he did recently in Miami, Florida, and was almost immediately escorted to a local hotel modeled after the Giralda.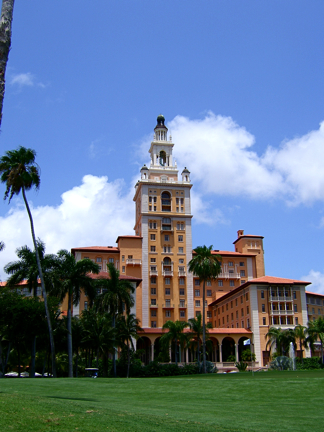 The Biltmore Hotel in Coral Gables, a major case of mistaken civic pride. One just has to wonder what ran through the King's mind at that moment. Sort of like being offered a "Rolex" for $150 bucks on a street corner in downtown Miami. Imitation is not always the sincerest form of flattery.
© Architecture Past Present & Future - Edward D. Levinson, 2009